So earlier this month, the fine folks at eBay informed me that I had earned a whopping 41 cents in eBay bucks because I bought a couple of items in the last six months. So, I sought out to find something worth having for 41 cents on eBay before the end of the month, and after a couple of weeks, I ended up spending it all on a pack of 1990-91 Upper Deck Hockey Cards. Not only that, but it was the High Series pack of Upper Deck hockey cards, meaning I could get cards from the high series of that set. Yes, very exciting indeed. There are 12 cards in this pack, so let's see what I've got.
#417 Todd Krygier - Hey, did you know that Krygeir was the first graduate of the University of Connecticut to make it to the NHL? Not surprisingly, he started his career in Hartford. Krygeir was never a superstar, but he did play over 500 games in the NHL and scored an overtime game winner in Game 2 of the 1998 Eastern Conference Finals for the Washington Capitals.
#49 Paul Gillis - Gillis is a guy that racked up a lot of penalty minutes, as he had over 200 penalty minutes in three separate seasons. Currently, Gillis is the head coach of the Odessa Jackolopes of the East Coast Hockey League. I wonder if 20 years ago that Gillis thought he'd be the coach of a minor league team deep in the heart of Texas? Strange the places life takes people.
#357 Scott Scissons - Scissons was the 6th overall pick in the 1990 NHL Draft by the New York Islanders. The first five picks (Owen Nolan, Petr Nedved, Keith Primeau, Mike Ricci, and Jaromir Jagr), played a combined total of 5,463 games and scored 4,425 points in the NHL. Scissons played a grand total of 2 games and never scored an NHL point. The next two picks were Darryl Sydor and Derian Hatcher, two pretty solid defenseman, and later in the first round, Martin Brodeur and Keith Tkachuk were selected. Scissons, like many others, seemed to fall victim to injuries and never really got going in the NHL, to say the least. The Islanders have made a staggering amount of bad decisions over the past 25 years or so, and the selection of Scissons is right up there.
#437 Normand Rochefort - Rochefort, if he's known at all, is most known for playing for Team Canada during the 1987 Canada Cup, despite the fact that he scored 15 points in 70 games the previous season. Nevertheless, Rochefort was a solid player in his career, and scored the first goal in game 2 of the Canada Cup finals between Canada and Russia, a game that many consider to be the best of all time.
#52 Larry Robinson - Hey, this guy's pretty good. A Hall of Fame defenseman who won six Stanley Cups as a member of the Montreal Canadiens and one as head coach of the New Jersey Devils in 2000-01, as well as two Norris trophies. Robinson had his number retired by the Canadiens and was named the 24th best hockey player of all time by the Hockey News in 1998. Probably the best card I'm going to get in this pack, but that'd be just fine.
#29 Gary Roberts - One word describes Roberts, tough. A fifty goal scorer during his days in Calgary, Roberts was forced to retire in 1996 due to a neck injury, but came back and played another 11 years in the NHL. Although not quite the same level of player he was before the injury, Roberts still was a threat to score, and had a great run for the Toronto Maple Leafs in the 2003 playoffs (19 points in 19 games). Not quite a Hall of Famer, but a very good player who scored 438 career goals and racked up 2,560 penalty minutes during his 19 years in the NHL.
#457 John Slaney - This card is part of the World Junior Champions subset, as Slaney was a defenseman for Team Canada and actually score the tournament winning goal against Russia. The ninth pick in the 1991 NHL Draft, Slaney didn't have a great NHL career, but he did once hold the record for most career points by a defenseman in AHL history, and is still playing pro hockey today in the Czech Extraliga at the age of 38.
#24 Alexander Mogilny - Not only that, but this is a rookie card of Alexander Mogilny, meaning I probably got my 41 cent investment back at the very least. Mogilny could be a frustrating player at times, but he was also one of the most dangerous scorers of his era. A six time All Star, Mogilny scored 1,032 points in 990 games, and once scored 76 goals in a season for the Buffalo Sabers. Could the Hall of Fame be in Mogilny's future? It seems a bit unlikely, but you could definately make a case for him.
#9 Curt Giles - Giles was a defenseman that played 895 games in the NHL, was the captain of the Minnesota North Stars from 1989-1991, and was a member of the silver medal winning Canada hockey team in the 1992 Olympics. That's pretty much all I know about him.
#497 Al MacInnis - This card celebrates MacInnis's win in the Hardest Shot competition during the 1991 NHL All-Star Skills Competition. Macinnis would win the competition another six times in his career, as well as a pleathora of other awards on his way to a Hall of Fame induction in 2007.
#4 Adam Creighton - A big center at 6'5", Creighton was actually coming off his best season when this card was issued, as he scored 70 points and collected 224 penalty minutes during the 1989-90 season with the Chicago Blackhawks. He never did have a season that approached his work in 1990, but Creighton was a solid center to have on your team and played in over 700 games in the NHL.
#312 - St. Louis Blues Checklist (Brett Hull) - You probably know all about Hull, so I'll just mention something else. I always liked that Upper Deck used artist drawings on their team checklists instead of a regular picture. As a kid, I collected cards and in most cases, I could care less about getting a checklist, but I didn't mind getting a checklist from a pack of Upper Deck as the drawing on the front made it seem special, in a way, even if it was a crappy team like the Cleveland Indians and the drawing is of Candy Maldanado or something. Well, I hope that makes some sense, anyway.
Overall, not a bad haul, as I got two Hall of Famers and one of the best rookies in the set. Best of all, none of the cards were bent up or the corners dinged, so that's always a plus when dealing with 20 year old packs. Overall, I'd give it a 7 out of 10.
Well, thanks for reading,

and if you have any comments about this or previous posts, or ideas for future reviews or posts, than share them either by leaving a comment or by sending me an e-mail at KtheC2001@gmail.com.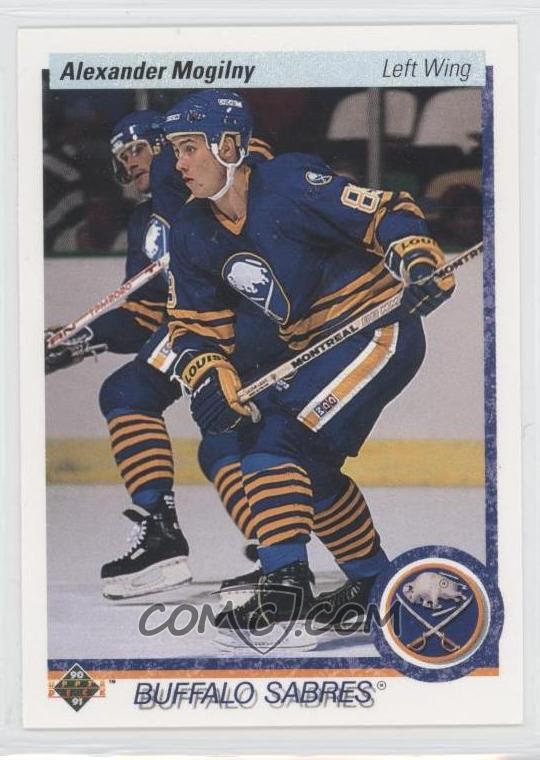 courtesy of checkoutmycards.com